7th Deep STEAM KEY REGION FREE GLOBAL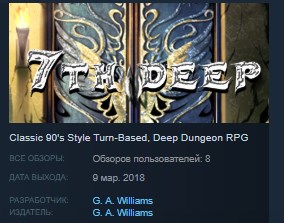 https://store.steampowered.com/app/806580/7th_Deep/
💎💎💎💎💎💎💎💎
STEAM KEY REGION FREE GLOBAL
The 7th Deep Beckons...
The mysterious Kaia has found seven powerful individuals, one of whom is capable of reaching the bottom of the 7th Deep, an ancient dungeon filled with countless treasure and hordes of monsters, to claim the powerful God-Asper. This Relic is said to give the wielder the power to make dreams come true and you can bet that everyone wants a piece of the action!
Make your choices: Will you be an evil alien who uses hi-tech weapons to obliterate his foes, a vampire that uses the lifeblood of others to revitalise herself, or maybe a powerful acolyte with potent, innate healing abilities?
Your character choice will decide which options you have when you must make difficult decisions while exploring the Deep. A man is hanging on for his life. What will you do? As a Good character you may get help or put yourself at risk to save him. As an Evil character you might taunt him, rob him, or hasten his demise. The choice is yours.
You must use all of your cunning and resourcefulness if you wish to reach the bottom of the 7th Deep where an incredible object of power and an even greater, ancient evil awaits. The God-Asper silently awaits its new owner. Anticipation races through your soul; what would you do with such power?
Features:
*No Random Encounters
*Optional Puzzles
*Three Game Modes: Normal, Survival and New Game+
*Seven characters to choose from, each with their own specialties in and out of combat
*14 possible endings that may be rewatched once unlocked
*Gear, Consumable, and Weapon Crafting
---
ИНСТРУКЦИЯ ПО АКТИВАЦИИ:
1. Необходимо скачать и установить Steam http://steampowered.com/download/SteamInstall.msi
2. Зайти под своей учетной записью или зарегистрировать новую.
3. Перейти в раздел "добавить игру" и выбрать "Активировать через Steam...", ввести ключ полученный после оплаты.
Цена:
29
руб.
Купить или узнать подробнее
← Назад на главную страницу