Core Awaken ~The Yuka~ STEAM KEY REGION FREE GLOBAL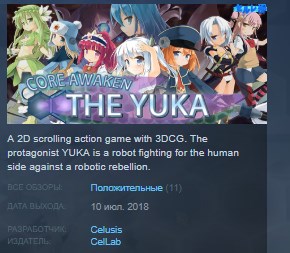 https://store.steampowered.com/app/878150/Core_Awaken_The_Yuka/
💎💎💎💎💎💎💎💎
STEAM KEY REGION FREE GLOBAL
With the development of science and technology,
a kind of robot slave is invented by humans. But one day,
the robots have started to fight for
their own nation with self consciousness after their cores are awaken.
But Yuka, an awaken robot, has decided to help humans terminate the robots´ rebellion.
[About This Game]
This is a 2D Action Game with the following levels of difficulty:
Standard: Even those that are not used to action games can enjoy.
Advance: Intermediate Level.
Expert: Expert Level.
No Future: For the best of the best.
* Clothing has a durability parameter. Once it reaches 0, it will be broken.
* There are 8 usable characters, They each have their own individual battle styles.
* Develop your base, strengthen your machine, gain skills, improve your special attacks,
explore random dungeons and other such replayability full elements.
* KAKIN Point System: You can use these points to unlocked features like "Unlimited Revives"
but you don´t actually have to KAKIN (pay additional money)
(It´s like a in game meta referring to out of game KAKIN style, pay to win play.)
[System]
* 8 usable characters (including YUKA). The characters in the main sample image.
Yuka / Rurumu / LittleSnow / W´SYS / Nashi / Forest / Jilelen /Rusu
Each with different kinds of weapons and play styles.
* Special Attack / Enhancement System.
When you defeat bosses you will receive Battle Chips that can be used to
gain new Special Abilities. Gain experience during battle to enhance.
[Voice Acting]
Yuka: Ritsuka Mizutani
Rurumu SatouShio
LittleSnow: Mimi Mikami
W´SYS: Ritsuka Mizutani
Nashi: Ritsuka Mizutani
Forest: SatouShio
Jilelen: Mimi Mikami
Rusu: Keito Tsuzuki / Ritsuka Mizutani
Furamu: Ritsuka Mizutani
Confirm system compatibility via the trial version.
==
History
==
2018/10/10 Ver1.01 Bug Fix
And we have something in our blog:
https://celusisstudio.blogspot.com/
---
ИНСТРУКЦИЯ ПО АКТИВАЦИИ:
1. Необходимо скачать и установить Steam http://steampowered.com/download/SteamInstall.msi
2. Зайти под своей учетной записью или зарегистрировать новую.
3. Перейти в раздел "добавить игру" и выбрать "Активировать через Steam...", ввести ключ полученный после оплаты.
Цена:
49
руб.
Купить или узнать подробнее
← Назад на главную страницу