WET WARFARE STEAM KEY REGION FREE GLOBAL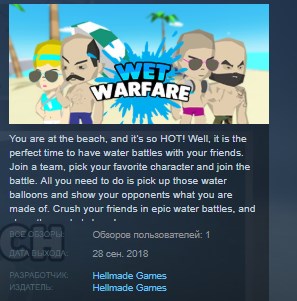 https://store.steampowered.com/app/914350/Wet_Warfare/
💎💎💎💎💎💎💎💎
STEAM KEY REGION FREE GLOBAL
You are at the beach, and it's so HOT! Well, it is the perfect time to have water battles with your friends. Join a team, pick your favorite character and join the battle. All you need to do is pick up those water balloons and show your opponents what you are made of. Crush your friends in epic water battles, and show them who´s boss!
Wet Warfare is a local multiplayer arena party game, best played with company. It is a fast paced game, with multiple characters and maps. Work with your teamates to eliminate your opponents in intense water battles. Being a water warrior is not an easy feat though; You have to train in order to master your art and be able to throw with precision, as well as have the right reflexes to dodge incoming enemy water balloons. The battles take place in carefully designed environments to increase the intensity, but also give the feeling of summer in your screen. Familiarize yourself with Wet Warfare´s delightful characters and choose the one who fits your fighting style best. Try them all and discover their strengths and weaknesses.
If you enjoy arena party games where you can destroy and humiliate your friends, you will love Wet Warfare!
Intense water battles
It may not have to do with with bullets, but battles are still intense. Be the one to dominate all your friends using just water balloons! How humiliating is that?
levels
Different levels, different moods, same intense battles.
Interesting characters
Choose a character that inspire you and awakes the water warrior inside you!
Good & bad powerups
What kind of battles would these be without powerups? Be careful though, some of the powerups are not for your benefit. Pick them up at your own risk.
Unique music
Get in the summer fighting mood with the background music written and produced specifically for each level.
Dangerous environment
Be careful of your surroundings, you never know what might hit you!
DISCLAIMER
Wet Warfare is a local multiplayer game, and therefore can only be played using 2-4 controllers only (keyboard is not supported).
---
ИНСТРУКЦИЯ ПО АКТИВАЦИИ:
1. Необходимо скачать и установить Steam http://steampowered.com/download/SteamInstall.msi
2. Зайти под своей учетной записью или зарегистрировать новую.
3. Перейти в раздел "добавить игру" и выбрать "Активировать через Steam...", ввести ключ полученный после оплаты.
Цена:
17
руб.
Купить или узнать подробнее
← Назад на главную страницу